Main section
Sign
Employment contracts, notices of termination or credit agreements – with SwissID Sign, you can provide legally valid signatures for documents electronically, around the clock. So there is no longer any need to print, sign and send documents by post. You save time and reduce your environmental footprint. Place your trust in SwissID Sign today.
Webinars for business customers
Five free signatures for new customers.

Corresponds to a handwritten signature (ESigA).

All data stored in Switzerland.

Convenient payment by credit card.

Free online identity verification 24/7.

Data protection based on the FADP and the GDPR.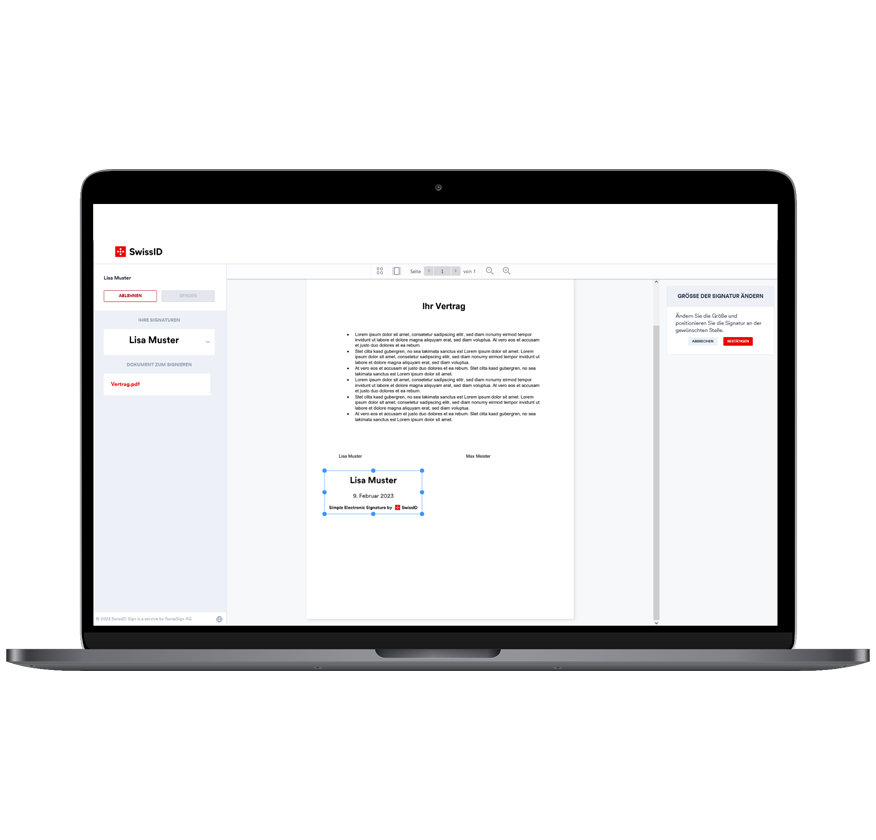 The key features
Multiple signatories per document – including a defined sequence.
Personalise the electronic signature – with your company logo, for example.
Insert your signature using your desktop computer or the app.
Confirm the signature with the SwissID App on your smartphone.
SwissID Sign explained in 60 seconds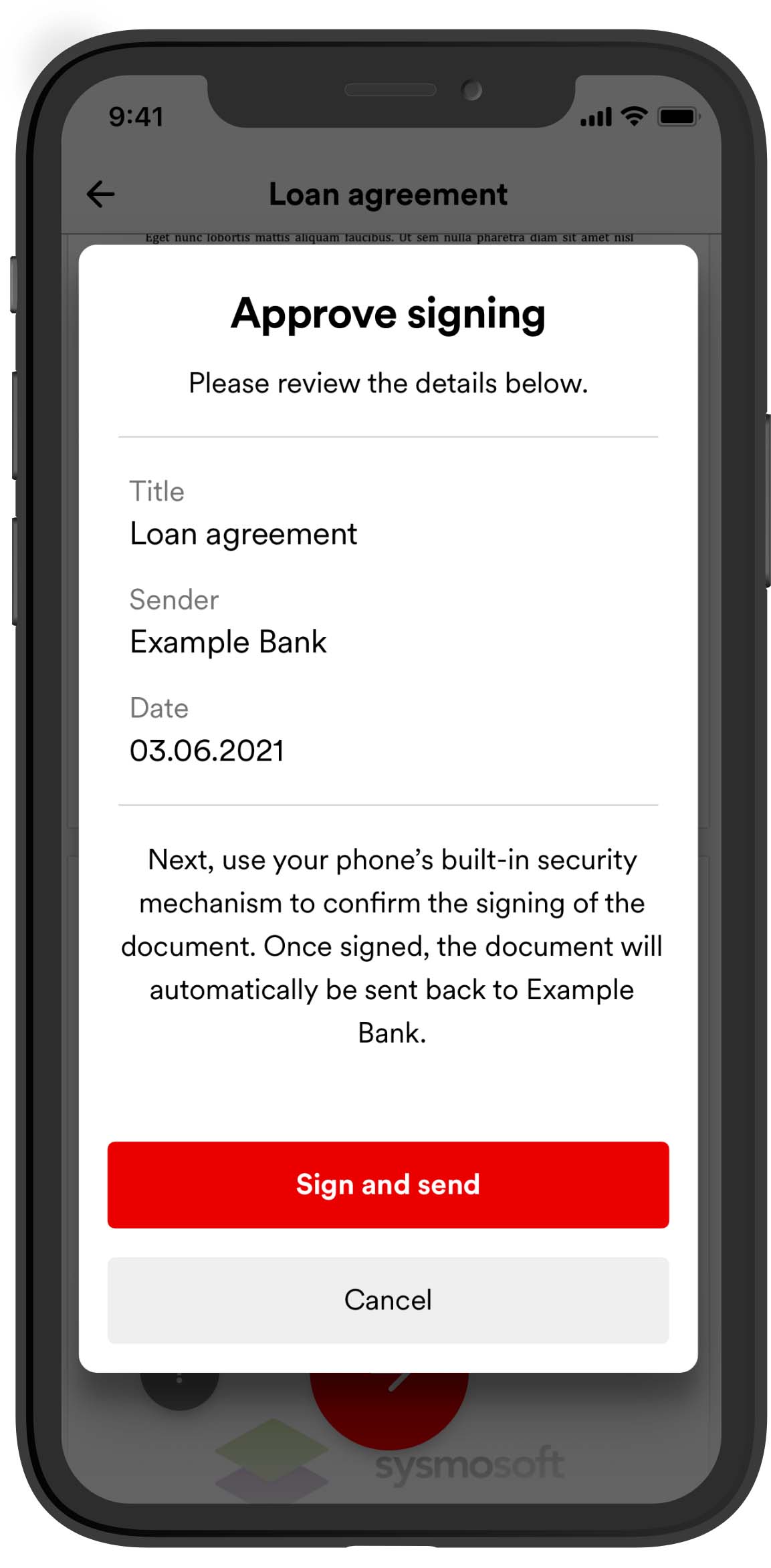 How to enable SwissID Sign
Download the SwissID App.
Create a SwissID account.
Perform identity verification* free of charge using the app.
Enable SwissID Sign using the app.
Upload your document to the signing room and sign it using your desktop computer or the app.

*You can find an overview of which identity documents are accepted for identity verification here.
Go to the signing room
Impressed?
Impressed by the benefits of electronic signatures? Once you have used up your free signatures, you can purchase additional signatures easily and conveniently using your credit card.
Please note our terms of use.
To the price overview
For business customers
Integrate our signature solution into your processes
Would you like to incorporate a signature solution into your existing workflows and processes? Or do you need to keep the documents to be signed in your IT environment for compliance reasons? We have the right signature model for your needs.
Learn more
Frequently asked questions (FAQ)
What do I need in order to use SwissID Sign?
To use SwissID Sign, you'll need a SwissID account with a verified identity, along with a smartphone with the SwissID App installed. The identity check must have been completed before enrolling for the signature service and the submitted ID documents must still be valid at the time of registering for the signature service in the SwissID App. The required smartphone specs are shown below under "What are the hardware requirements for smartphones?".
What are the hardware requirements for smartphones?
The operating systems iOS (version 12.0 or later) and Android (version 8.0 or later) are supported. The manufacturer's protective measures must not be circumvented (i.e. the device must not be "rooted" or "jail-broken"). The device must contain a hardware-based trusted execution environment (such as Secure Enclave on iPhones) that can be unlocked with biometrics (fingerprint or facial recognition).
I do not have a credit card. Can the signature packages also be paid on account?
Payment on account is not offered. The following payment options are available: PostFinance card, Visa, Mastercard.
With which PDF programs does SwissID Sign work?
In the SwissID Sign signature room, you can upload PDF documents that were created in accordance with Adobe PDF version 1.2 or higher. The verification of electronic signatures is ensured in the Adobe products.
If you use other PDF software, you must clarify the following two points with the provider:
For upload: Are documents created according to the specifications of the Adobe PDF standard?

For verification: Is verification of electronic signatures possible?
Is there a maximum file size for PDFs?
PDFs with a file size of up to 20 MB are supported.
How can signature fields be defined in PDFs?
You can use Adobe Acrobat to define what are known as digital signature fields in PDFs. Relevant documentation is available from Adobe's support page.
Why do I need to download the signed document?
Your documents are not permanently stored in the signing room of SwissID Sign. The documents are automatically deleted following completion of the signing process (30 days). For further use or archiving purposes, the documents must be downloaded and saved to your own infrastructure.
Is the electronic signature also valid abroad?
The electronic signature currently only supports signatures in accordance with the Swiss Federal Act on Electronic Signatures (ESigA). It is therefore only legally valid and binding for contracts subject to Swiss law.
SwissID Sign works without any additional hardware. How secure is it?
SwissID Sign fulfils the standards required by law and has been certified accordingly. The signature service uses the smartphone's hardware-based trusted execution environment (e.g. Secure Enclave on the iPhone) to protect the security keys. This trusted environment is also protected by hardware-based security.
I would like to change the name in my digital signature. How do I proceed?
Due to regulatory requirements, this is no longer possible.
I've got a new mobile phone. How can I use the SwissID App on this new device?
Please revoke the certificate you use for SwissID Sign before you switch mobile phones. You can do so in your SwissID account in the 'SwissID Sign' menu using 'Revoke certificate'. Then open the SwissID App on your new mobile phone and use the 'Signing service' icon to activate your access to the SwissID Sign service. Access to your documents remains guaranteed as long as you use the same SwissID account as before. Click here to get more information about using the SwissID App.
I've lost the mobile phone that I use for electronic signatures. What should I do?
If your mobile phone has been lost or stolen, please contact customer support as soon as possible.
How can I have my certificate revoked?
You can have your certificate revoked in your SwissID account at swissid.ch. To do so, please download this form and follow the instructions within it.
How does the new solution differ from the previous one, SuisseID?
The 'old' SuisseID was based on a local signature and required a hardware token containing the signature certificate. The new solution uses the smartphone itself as the hardware token. SuisseID is being fully replaced with the new signature solution.