Main section
How KLARA is using the SwissID Sign integration solution

About KLARA
Small companies and private households waste a lot of time and energy dealing with things such as payslips, employee insurance policies, references, illness and accident reports, and accounting. Valuable time that you might otherwise be spending on other daily business or on your hobbies. KLARA has set about tackling this problem and found an innovative solution: The Business Software KLARA handles far more than just the administrative work, thus streamlining the office.
Initial situation
KLARA provides a service through the ePost app, allowing insurance companies such as property insurers, among others, to establish relationships with their end customers directly via the app.

In the past, customers had to provide handwritten signatures when signing contracts (documents usually sent by post or email).
KLARA's requirements
KLARA needed a signature solution that could be integrated seamlessly into its existing workflow to prevent media discontinuity and conclude contracts even faster. The aim was also to reduce the administrative effort for customers and their end customers.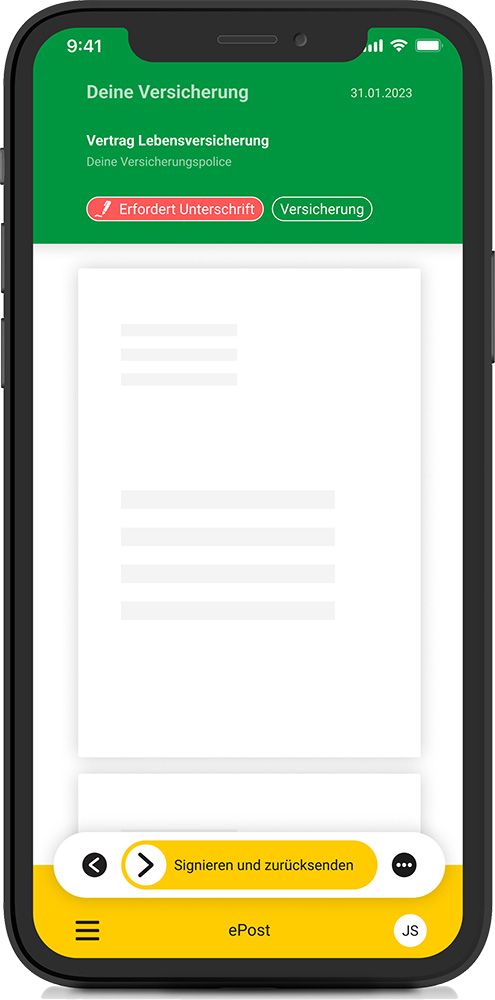 The SwissSign solution
KLARA has integrated the simple electronic signature (SES) from SwissSign into the ePost app conveniently via a REST-API. This allows end customers, for example, of insurance companies, to sign contracts easily using the swipe function.

The signed document is returned to the insurance company within seconds. The files follow a uniform naming convention according to a predefined structure, which makes storage easier.

The end customers asked to provide their signature do not incur any costs. Billing takes place on account to the signature provider, in this case KLARA, on a monthly basis.

This allows KLARA to provide its customers with a fully digital workflow. The insurance company benefits from massive time savings.
Renato Stalder, CEO KLARA Business AG
Thanks to SwissSign, our ePost customers can sign their contracts digitally. This makes the workflow very fast, pleasant and intuitive. Also our partners benefit from the paper-free process.
We're here to help
Not sure which model is right for you? We'll provide non-binding advice and can also guide you through the SwissID Sign environment directly as part of a live demo.
Get in touch